Good News|Iron-Technology's "Smart Dispensing and Dispensing Smart Pharmacy System" won the "2022 Preferred Solution Golden Ruyi Award" in the health industry --- the "Preferred Solution" for patient services!
---
Under the guidance of Hainan Boao Medical Innovation Institute and sponsored by the health industry, the "China Hospital High-Quality Development Professional Promotion Project - 2022 Optimal Solution · Golden Ruyi Award selection activity will be held online on December 23, 2022. This selection activity Set up preferred solution awards (Golden Ruyi Award) in 8 categories including management promotion, clinical treatment, clinical examination, and imaging examination.
Suzhou Iron-Technology Co., Ltd.'s "Intelligent Dispensing and Integrated Smart Pharmacy System" relied on advanced technology and good reputation to pass the 8 authoritative expert judges and awards in the "2022 Preferred Solution·Golden Ruyi Award" held by the health industry. After layers of screening by more than 60 professional judges and 7 industry judges, the company stood out among many participating companies and was finally awarded the "Preferred Solution" in the patient service category, becoming the only company in the industry to win this honor.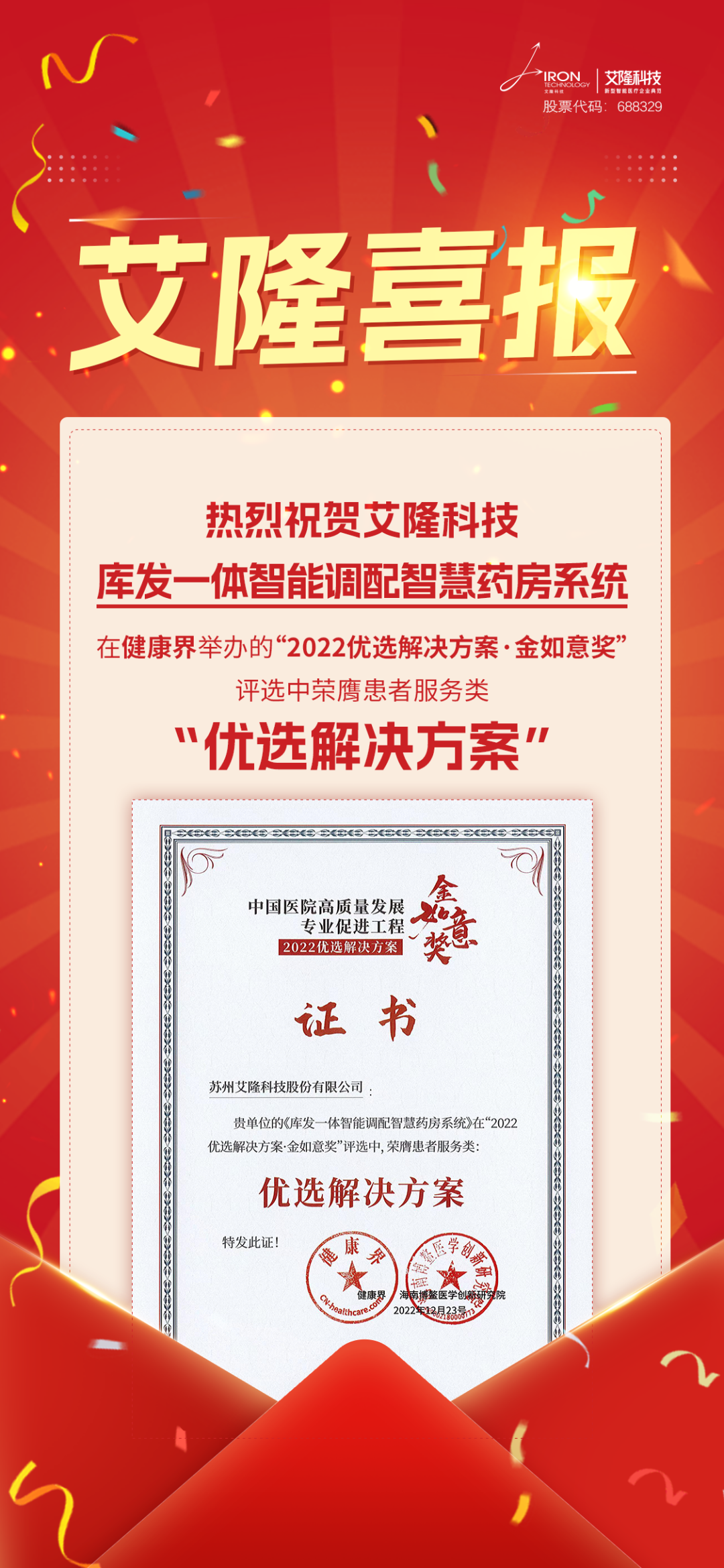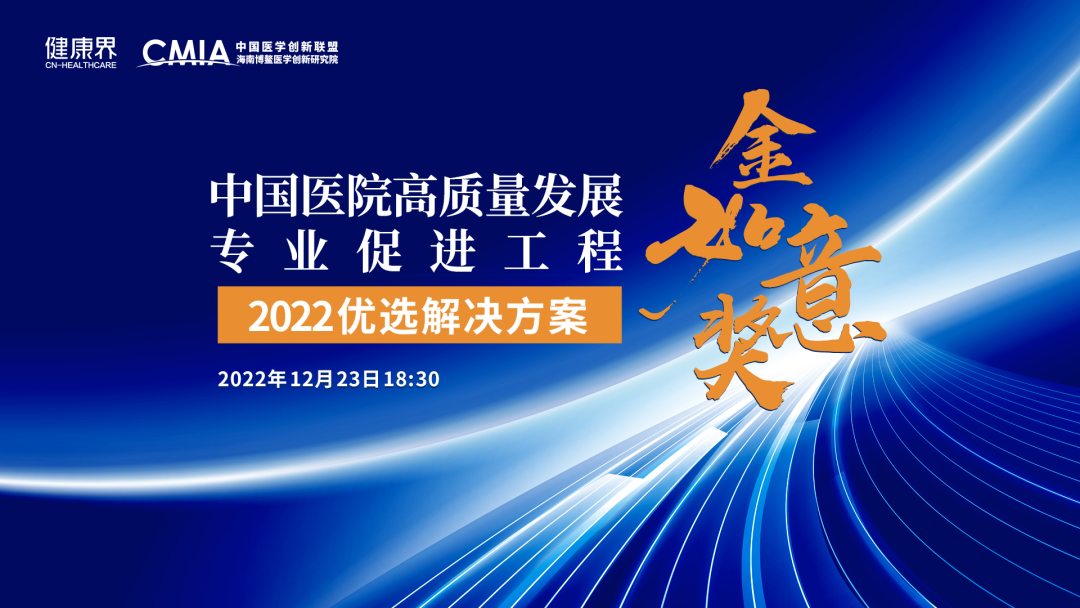 In this selection event, the members of the evaluation team include expert judges such as deans and vice presidents of domestic TOP tertiary hospitals; professional judges from professional field directors and deputy chief physicians of public hospitals above tertiary hospitals across the country; and domestic The judging team of venture capital industry with related successful cases.
The organizer received a total of more than 160 participating plans. After layers of screening by the organizing committee, 67 plans finally won and won the Golden Ruyi Award·Preferred Solution.
The "2022 Preferred Solution·Golden Ruyi Award" aims to discover advanced technologies, cutting-edge products and excellent services in hospital construction through refined operations, digital tools and system support, so that the professional value of various medical products and solutions can be fully realized It shows that it can accurately reach hospital decision-makers and professional users, and promote the "two-way travel" between enterprise supply and hospital demand.
Iron-Technology
"Integrated Intelligent Dispensing and Intelligent Pharmacy System"
The Iron-Technology integrated intelligent dispensing and dispensing smart pharmacy system has been implemented in dozens of tertiary general hospitals. This system integrates the information management system, automation equipment and Internet of Things construction content of medicines and other materials, covering the circulation of medicines and other materials in the hospital. full life cycle. Fundamentally changed the original manual drug management model. Using big data, robotic arms, automatic conveyor belts, etc. to monitor and supply medicines 24 hours a day, through the prescription review system and front-end visual intelligent verification system, the interconnection and real-time matching of prescription drug information and database information is realized. It has achieved the goal of refined control of the whole process of medicines from warehousing, storage to distribution, and dispensing, physical inventory management of medicines in the hospital, and closed-loop management of the whole process of batch numbers.
In terms of drug management and dispensing, the smart pharmacy system can efficiently and accurately manage drug information and flow; intelligently analyze the amount of drugs in the hospital, reduce the capital cost of drug procurement, and achieve the goal of "zero inventory" to the greatest extent.
Integrated intelligent dispensing of warehouse and distribution The intelligent pharmacy system realizes automation and information management and control in the whole process of prescription generation, review, dispensing and distribution; the working mode of pharmacists is improved, and the dispensing of prescriptions of various functional departments can be completed efficiently, and patients can arrive immediately to eliminate unreasonable queuing.
Kufa integrates intelligent deployment of smart pharmacy systems to achieve drug and prescription information management and traceability. The entire process is traceable to ensure that patients receive the correct and safe drugs, thereby improving patient medication compliance and medical satisfaction.
The integrated intelligent deployment and intelligent pharmacy system of library and distribution system liberates the manual work of pharmacists, provides time guarantee for the development of their own work in pharmaceutical services, and improves work efficiency; pharmacists apply professional pharmaceutical knowledge to provide patients with efficient pharmaceutical services.
Iron-Technology strongly upgrades the pharmacy management model with the "Smart Pharmacy System for Integrated Intelligent Dispensing and Dispensing", which effectively solves the problems of pharmacy management and improves the quality of patient service. Finally, it was unanimously recognized by judges, experts, and medical institutions.
In the future, Iron-Technology will continue to adhere to the development philosophy of "independent research and development, lean manufacturing, and continuous innovation", take the popularization of intelligent medical technology as its mission, integrate cutting-edge technologies, empower front-line needs, and develop more products to make them affordable and useful for users. Good smart medical product. Work hard to promote the implementation of the "Healthy China 2030" strategy!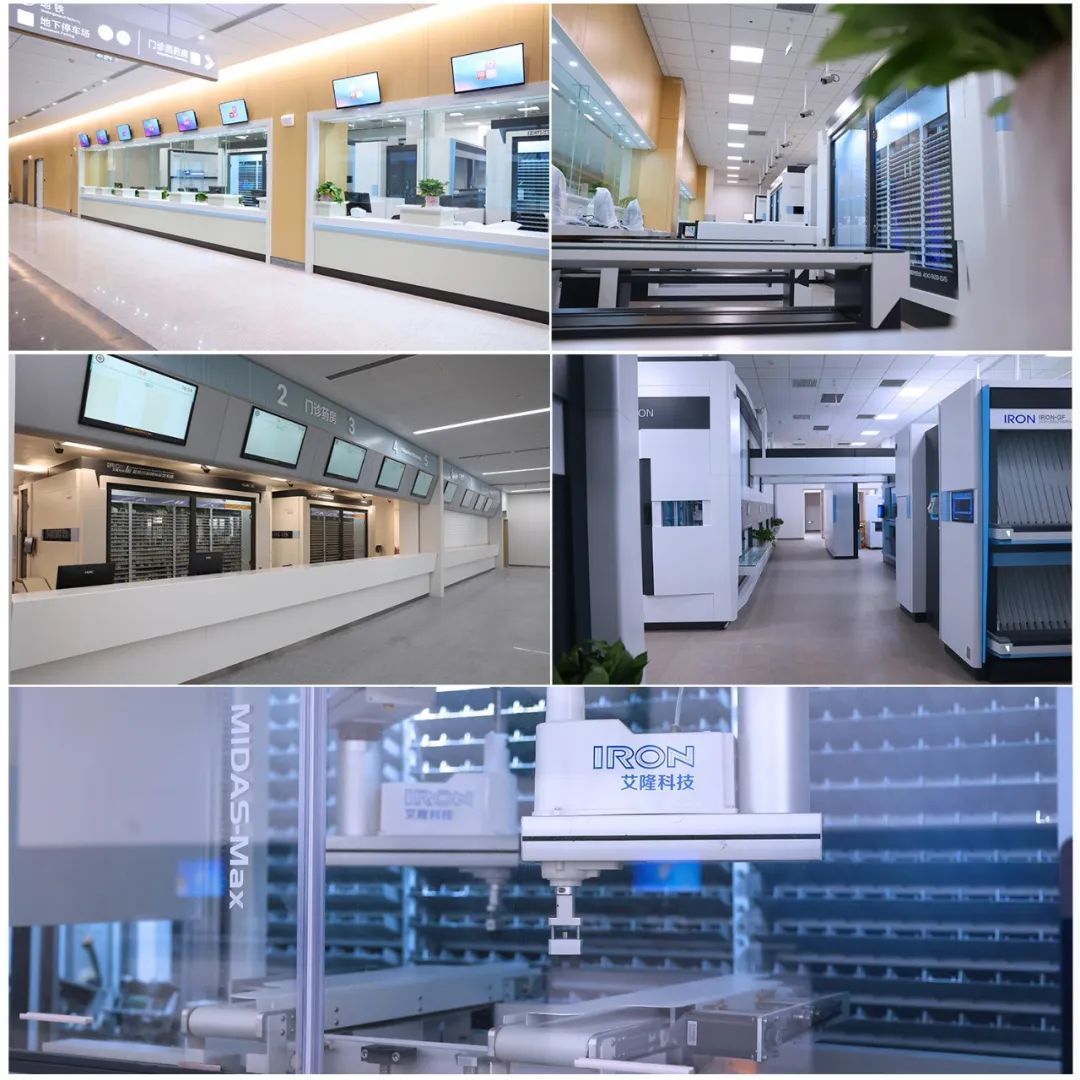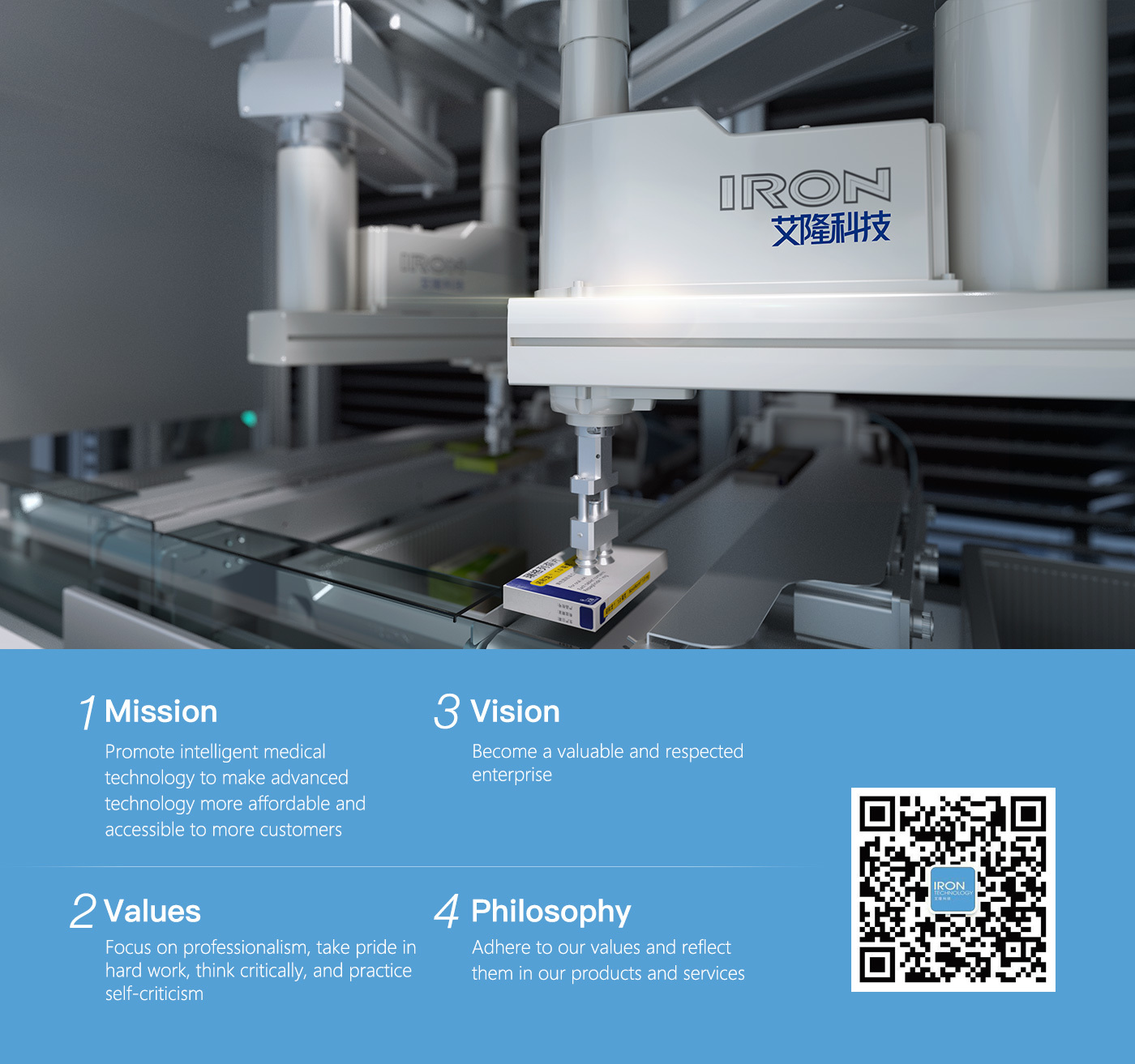 ---
Operations Headquarters: No.27 XinFa Road,Suzhou Industrial Park,Jiangsu,China
Academic Communication & Research Center: No.71 XinQing Road,Suzhou Industrial Park,Jiangsu,China