Why Iron-Technology was shortlisted as the only small giant enterprise in the industry that was selected as a national key specialized, specialized, new and key enterprise by the Ministry of Industry and Information Technology
---
Recently, the Ministry of Industry and Information Technology has carried out the third batch of specialized, special and new "little giant" enterprise cultivation work. After preliminary verification and recommendation by the competent department of small and medium-sized enterprises in Jiangsu Province, demonstration of restrictive conditions by industry associations, expert review, and publicity, etc., Suzhou Ailon Technology Co., Ltd. has been successfully selected by virtue of its core technology in the field of intelligent management of medical materials and its innovative capabilities in new smart medical services for many years, and has become a high-quality, specialized, and new "little giant" enterprise supported by the state.

Specialized, special and new small giant enterprises are the best among specialized, special and new enterprises. They are pioneer enterprises that focus on market segments, have strong innovation capabilities, high market share, master key core technologies, and excellent quality and efficiency. In order to implement the relevant requirements of the "Guiding Opinions on Promoting the Healthy Development of Small and Medium-sized Enterprises" by the General Office of the CPC Central Committee and the General Office of the State Council, the Ministry of Industry and Information Technology focuses on adhering to a professional development strategy, having continuous innovation capabilities and R&D investment, focusing on and implementing long-term Basic conditions such as development strategy and special conditions such as economic benefits, degree of specialization, innovation ability, business management, and classification conditions The vanguard companies selected by the classification conditions are of great help to improving the competitiveness of small and medium-sized enterprises, as well as improving the stability and competitiveness of the industrial chain and supply chain. Power is of great significance, and it is conducive to enterprises to become more refined, stronger and bigger.
The Ministry of Industry and Information Technology's "Little Giant" selection requires enterprises to be among the best in the country or among the top 3 in the province in terms of market share, focus on core business, and have high market share and gross profit margin. "Little Giant" enterprises rely on advantages such as technology or efficiency. Occupy a leading position in their respective industry segments or fields, and have a high market share in the segmented fields.
Vice Premier Liu He of the State Council pointed out at the National "Specialized, Specialized and New" SME Summit Forum that at the current stage of my country's economic development, technological innovation is not only a problem of development, but also a problem of survival; "Specialized, Specialized and New" is to encourage innovation, Be professional, refined and distinctive. Entrepreneurs should focus on the main business, practice internal skills, strengthen innovation, and build the enterprise into a "single champion" or "supporting expert" with unique skills, so that it is expected to solve a batch of manufacturing problems for the country. The problem of "stuck neck" in the industry segment.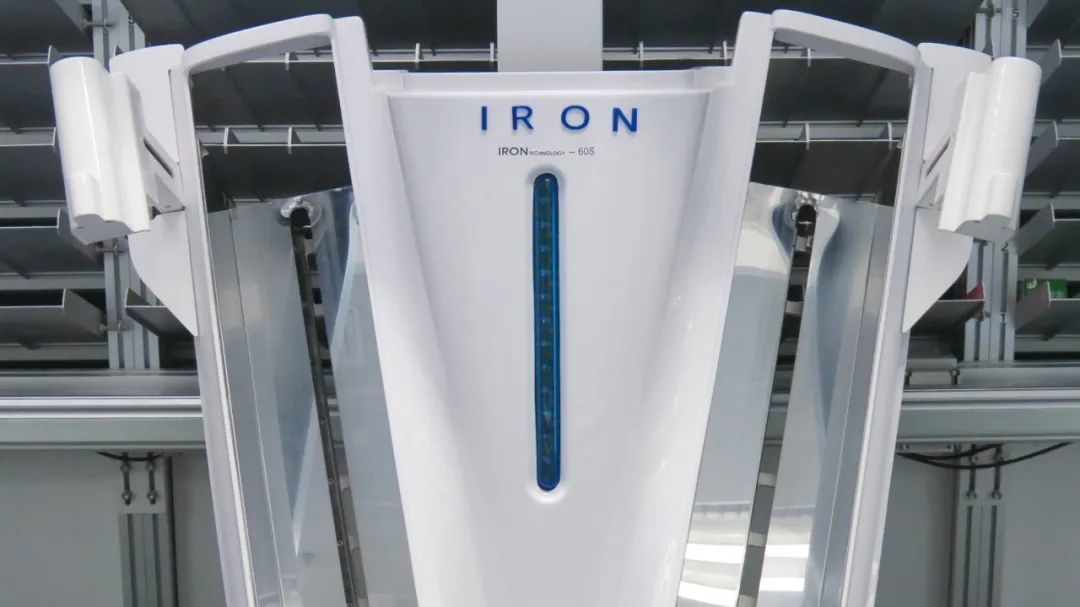 Why Iron-Technology was shortlisted for the National Key Specialized Special New Little Giant Enterprise
A leading company in a high-growth segment
Suzhou Iron-Technology Co., Ltd. has always implemented the development concept of "independent research and development, lean manufacturing, and continuous innovation", and has long been focused on and deeply engaged in the field of intelligent management of medical supplies. Relying on the human-computer interaction platform built by the Internet of Things and big data analysis, Create a "hospital-level" and "one-stop" overall solution to provide efficient, safe, comprehensive and intelligent medical material storage, distribution, management and transmission services for medical service institutions at all levels. As a high-tech enterprise and a national intellectual property demonstration enterprise, the company has won the titles of "National Torch Plan Key High-tech Enterprise", "Excellent Enterprise of the First China Innovation and Entrepreneurship Competition", "National Torch Plan Industrialization Demonstration Project", "Seventh China Hospital "Building Top Ten Medical Equipment Suppliers", "Jiangsu Province Science and Technology Award", "Jiangsu Province Science and Technology Small and Medium-sized Enterprises", "Jiangsu Province Famous Trademark", "Suzhou Famous Brand Products", "First Prize in Modern Hospital Construction Overall Solution Competition" ", Jiangsu Province Software Product Award (Golden Hui Award) and other honorary titles. In addition, a number of products independently developed and produced by the company won the "China Patent Excellence Award", the "Gold/Silver/Bronze Award of the 9th International Invention Exhibition", and the "China Machinery Industry Science and Technology Award", and were selected into the "Second Batch" Catalog of Excellent Domestic Medical Equipment Products", "The Seventh Batch of Independently Innovated Products in Jiangsu Province", "The First Set of Major Equipment in Jiangsu Province", won the "2018 Outstanding Economic Contribution Award", and the company's "Pharmacy Intelligent Logistics Based on Internet of Things Technology" Systematic R&D and Industrialization Project" was approved as a Jiangsu Provincial Scientific and Technological Achievements Transformation Project and successfully implemented and accepted. With its strong software and hardware design, R&D, and manufacturing capabilities, the company continues to meet the diverse, personalized, and customized needs of customers, and has become a leading enterprise in the field of intelligent management of medical supplies in China. In 2018, the main product revenue was 239 million yuan, with a profit of 51.1295 million yuan. In 2019, it was 291 million yuan, with a profit of 53.5552 million yuan. In 2020, it was 309 million yuan, with a profit of 71.6571 million yuan. The average growth rate of corporate operating income in the past three years was 21 %. The average operating margin growth rate was 19.27%.
Continuous scientific and technological innovation capabilities
Since its establishment, the company has always adhered to the development strategy of independent research and development and continuous innovation. The company has a large-scale automated pharmacy engineering technology research center in the industry, and has mastered the overall research and development capabilities of software and hardware in the field of intelligent management of medical supplies and a number of core technologies. All products have independent intellectual property rights. At present, Ailong Technology has obtained 381 effective authorized patents in smart medical material management technology, including 158 invention patents, 183 utility model patents and 40 design patents, and has 82 software copyrights. . Participated in the formulation of three local standards including the unified standard of the Yangtze River Delta region "Evaluation System for Smart Pharmacies", the local standards of Anhui Province "Guidelines for the Construction of Smart Pharmacies", and "Code for Acceptance of Smart Pharmacies". The company continues to increase investment in research and development. In the past three years, the company's research and development expenses have been 20.1624 million yuan, 20.3034 million yuan, and 23.2497 million yuan, accounting for 10.28%, 8.49%, and 7.98% of operating income. R&D investment accounts for a relatively high proportion. The company continues to increase investment in research and development, and its innovation capabilities and technological advantages continue to increase, which has greatly improved the company's profitability and market competitiveness.
Through independent innovation, the company continues to explore hospital needs and creatively applies automation technology to the field of domestic medical institution pharmacies. Since 2007, it has achieved technological research and development breakthroughs and industrialized production of automated pharmacies in the domestic field, filling the gap of domestic automatic medication dispensing equipment. The market is empty.
Based on the actual needs of domestic hospital static distribution centers and wards, the company has successively launched industry-first products such as intelligent sorting systems, intelligent secondary cache libraries, and integrated intelligent deployment libraries, continuing to lead the industry's needs, constantly filling domestic gaps, and high-quality products. Collaborative development with customers keeps the company's technology always in the leading position in the industry.
In the context of the country's policy of vigorously developing "Internet + medical health" and promoting traditional Chinese medicine health services, the company's products have gradually extended from the in-hospital field to the out-of-hospital field, innovatively realizing the extended use of medical materials outside the hospital under the review and supervision of medical institutions. Create new out-of-hospital smart pharmacy products such as centralized traditional Chinese medicine decoction centers and urban central pharmacies.
Brand strategy has obvious advantages
The domestic medical supplies intelligent management business is an emerging industry and is in the growth stage. Due to different medical systems at home and abroad, hospital scales vary. As the overall informatization transformation of hospitals has become a general trend, Iron-Technology has designed overall solutions for different application scenarios of medical service institutions. It has deep technical accumulation, and with its rich product lines, Stable product quality and sound after-sales service are widely recognized by the market, and have certain market first-mover and brand advantages. Iron-Technology focuses on providing medical materials intelligent management overall solutions for medical institutions at all levels, combining customers' cutting-edge, innovative and personalized medical service content and management mode with Internet of Things, automation and information technology to create a comprehensive Intelligent management equipment and software information platform for the three major sectors of smart pharmacy, smart ward and smart logistics. Through nearly ten years of development, the company has become one of the professional service providers with the most R&D strength and large-scale production capacity in the intelligent management of medical materials in China. Excellent service, excellent product quality and professional technology have won a good reputation and become a leading enterprise in the industry. The company is one of the key high-tech enterprises of the National Torch Program in the industry, and it is also one of the few professional manufacturers that can independently provide overall solutions for hospital pharmacy automation and hospital supply chain system solutions.
In the future, Iron-Technology will continue to improve its independent innovation capabilities, continue to increase R&D investment, adhere to the road of "specialization, specialization and innovation", give full play to its leading and demonstration role, and actively participate in the upstream and downstream cooperation of the industrial chain to improve the enterprise and the industrial chain. It will make greater contributions to the development of the intelligent management industry of medical supplies, and help build a comprehensive and effective new intelligent medical system.
---
Operations Headquarters: No.27 XinFa Road,Suzhou Industrial Park,Jiangsu,China
Academic Communication & Research Center: No.71 XinQing Road,Suzhou Industrial Park,Jiangsu,China